Using myASLTech with Clips and Lessons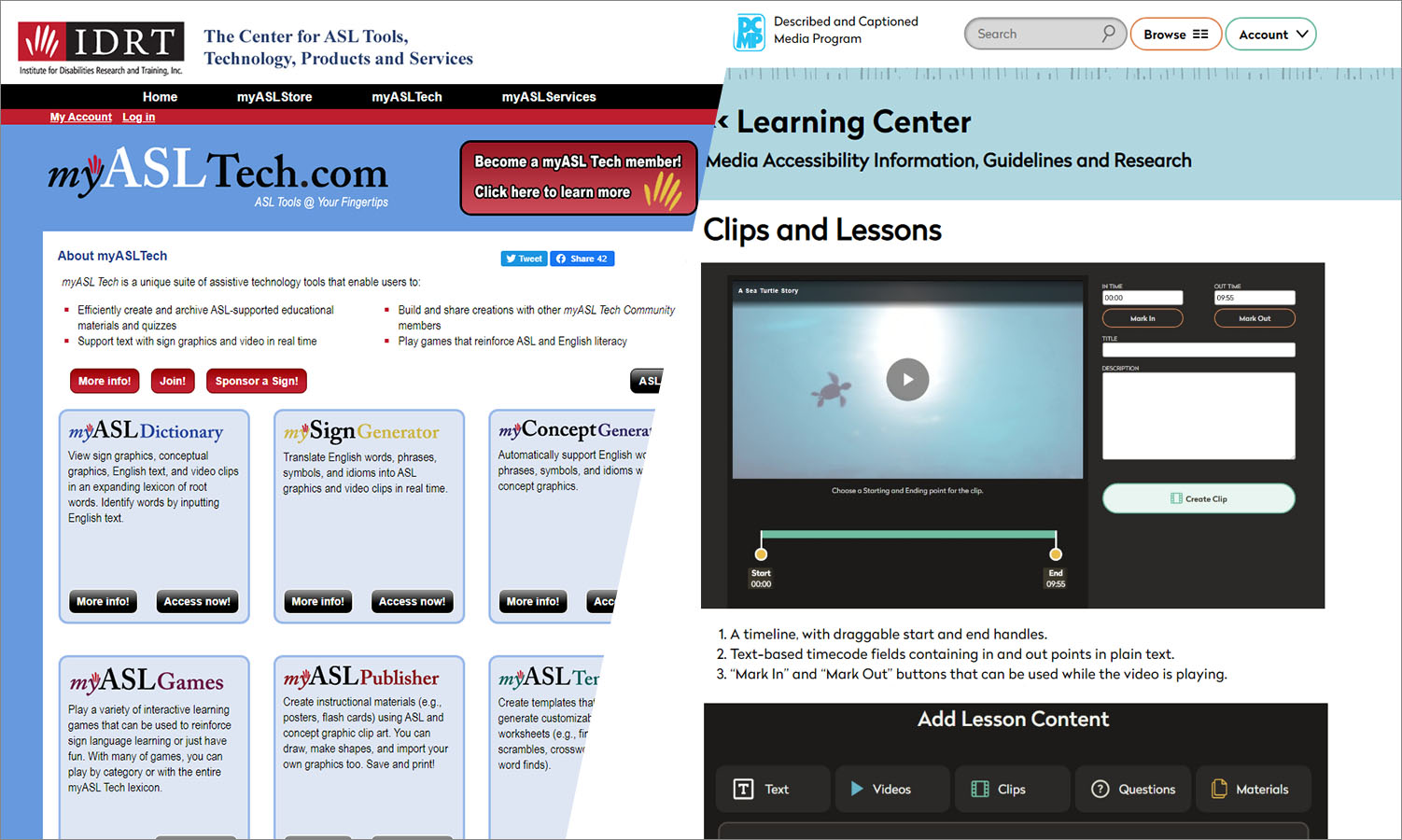 myASLTech, a unique suite of assistive technology tools for creating educational materials, offers a membership discount through DCMP. If you're a DCMP member, you can import educational materials created with myASLTech into DCMP's Clips and Lessons.
Learn how you can save 25% on each myASLTech membership! Or take advantage of an introductory offer: Two weeks for $2.00! Read on...
myASLTech enables its users to:
Utilize a database of tens of thousands of sign language graphics and video clips.
Build and share creations with other myASLTech Community members.
Play games and watch stories that reinforce ASL and English literacy.
Include myASLTech-made products in user-submitted files.
Clips and Lessons are DCMP teacher tools that allow you to create clips from DCMP videos and use them as part of a Lesson. A Lesson can include clips, videos, quizzes, text, and your own files.
DCMP's Clips and Lessons enables DCMP members to:
Select portions of DCMP videos and create clips.
Use clips as stand-alone videos or as part of a Lesson.
Create Lessons, which can include clips, full videos, quizzes, text, and user-submitted files.
User-submitted files can include materials created at myASL Tech.
Teaching tools than you create at myASLTech that can be saved and added to DCMP's Clips and Lessons include:
myASLDictionary
mySignGenerator
myConceptGenerator
myASLPublisher
myASLTemplates
Interactive teaching tools you can use on the myASLTech website include:
myASLGames
myASLQuizmaker
myASLThesaurus

myASLTech 1-month, 6-month, and 12-month memberships are available for individuals, small groups (3-19 people), and large groups (20+ people). Signing up through DCMP will save you 25%! New to myASLTech? Try it out for two weeks for just $2.00! Click the button below to start your membership application.
DCMP offers teacher tools and thousands of accessible videos at no cost to families, educators, and other professionals who have at least one student with a disability. Learn more about DCMP. Sign up here.
Save Your myASLTech Materials
For myASLDictionary, mySignGenerator, myConceptGenerator, myASLPublisher, and myASLTemplates, click "Save" to save it to your myASLTech account. Then click "Print" and choose "Save as PDF" to save to your computer's hard drive.
For myASLPublisher, click "File" and select "Save to Desktop."
Import Your myASLTech Materials Into a DCMP Lesson
Sign in to DCMP and click "Account" at the top of the page. Select "Lessons" from the drop down menu.
Click "Make Lesson."
Name your lesson, write a description, and click "Create and Build Lesson."
Click "Add Lesson Content."
Click "Choose File." Locate the file on your computer. Give this item a title, and click "Add Materials."
Please take a moment to rate this Learning Center resource by answering three short questions.